Keeping Children Safe When Online

Protect Your Family: Keeping Children Safe When Connected.
January 20, 2018 at 1:00 PM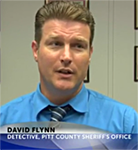 Dectective Flynn of the Major Crimes Division with the Pitt Count Sheriff's Office, will be presenting and answering questions.
This event will be for parents and their children. There are many instances where attacks, abductions and deaths of children have occurred because of texting apps and social media connections with predators, and parents were unaware. How can a parent protect their children? What can parents and their children do and look for? We will discuss this and more. There's no cost and nursery services will be provided during the event.